iLevil AP Auto Pilot
Proudly Made in Florida, USA
Regular price
$ 2,028.00 USD
Regular price
Sale price
$ 2,028.00 USD
Unit price
per
Sale
Sold out
Product Comparison Chart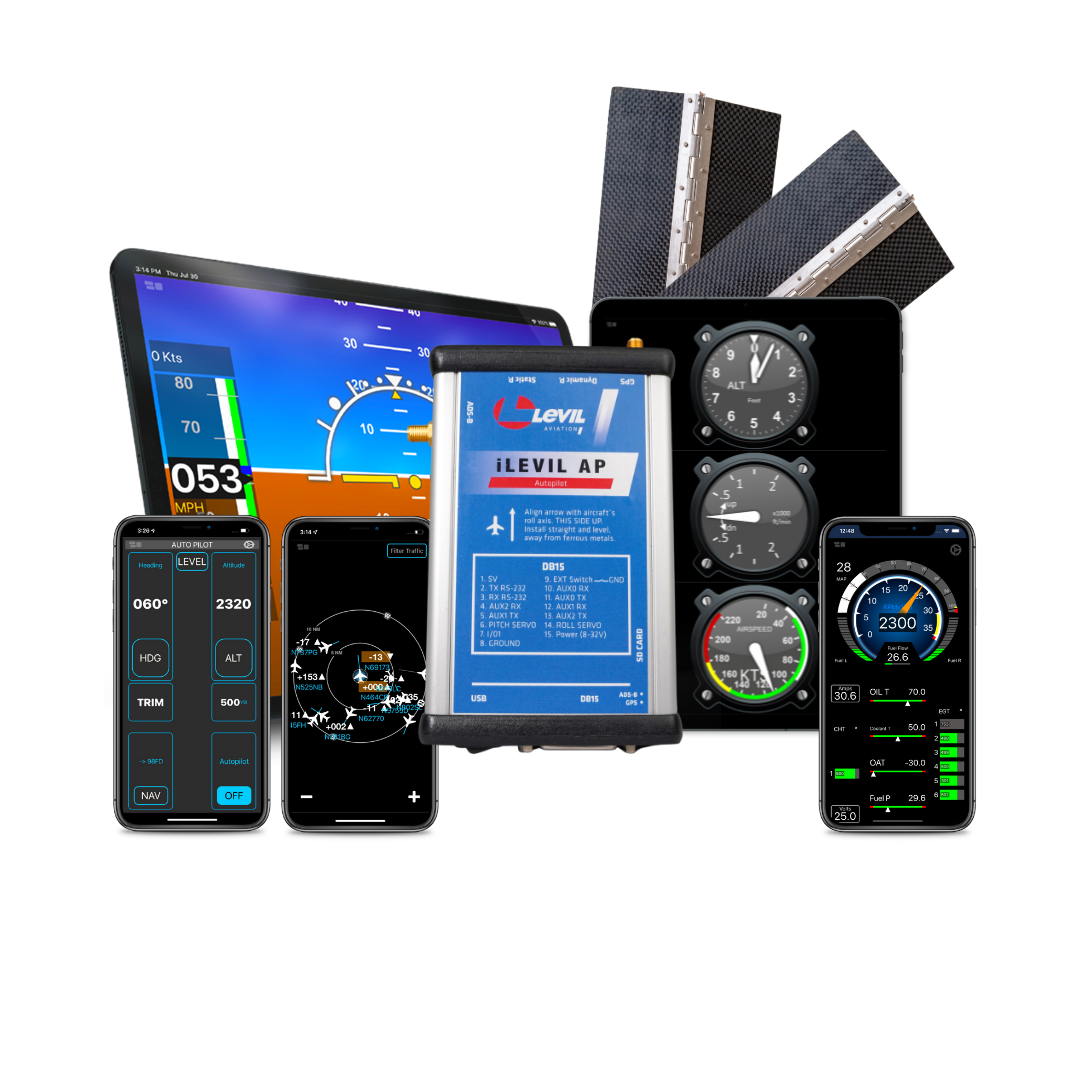 Product Comparison Chart
Light Autopilot Solution
Heavy servos are a thing of the past! Our lightweight design uses trim tab technology to control the pitch and roll of your light-sport or experimental aircraft from your iPhone or iPad
Watch the iLevil AP in Action
Engage, Sit Back, and Navigate With These Autopilot Features
The iLevil AP integrates a heading and altitude mode, vertical speed indicator, turn and slip indicator, flight plan steering, HOLD, auto envelope protection, and auto trim inside 1 device
Heading Mode

It uses the internal compass and GPS to hold a heading

Altitude Mode

It climbs to, descends to, or holds an altitude

Vertical Speed Indicator

Easily display your rate of climb and descent whenever you need it

Turn and slip indicator

Check your rate of turn in the heading and if the aircraft is in coordinated flight

Flight Plan Steering

Follow a flight plan with the iFly GPS App or any navigation device that outputs NMEA data

HOLD

Automatically keep the aircraft at the current heading and altitude

Auto Envelope Protection

The system corrects for excessive inputs beyond a roll or pitch limit

Auto Trim

Always be in trim following autopilot disconnect
Plus Get All of the Avionics That You Know and Love
Get engine information, indicated airspeed, WAAS GPS, AHRS, ADS-B in, and data recording
GRT Engine Analyzer

Connect a GRT EIS 4000, 6000, or 9000 via the iLevil AP RS232 serial port and display your engine data

Airspeed

Display your airspeed indicator and adjusted it to match your V speeds

Weather

Transmit your weather information data wirelessly to your favorite navigation app

Traffic

Display the traffic around you and where they are heading without having a cluttered background

EFIS

Display your EFIS including altitude and heading bug setting, integrated AoA indicator, and Configurable V speeds

Altimeter

Just like the old school, you can easily display your altitude above sea level

Vertical Speed Indicator

Easily display your rate of climb and descent

Data Recording

Record your flight data and review it on CloudAhoy, Google Earth, Xplane, Flight Simulator, and Microsoft Excel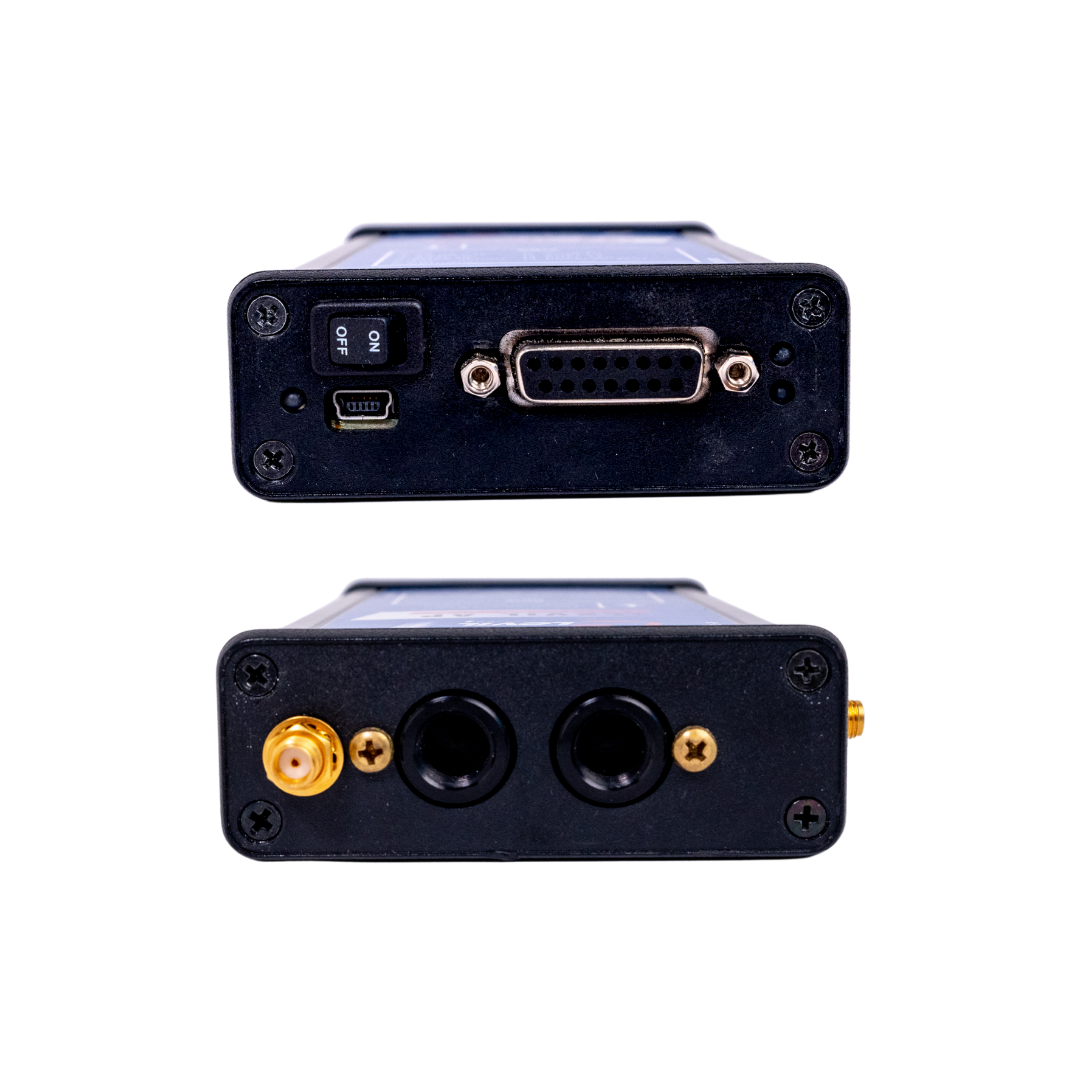 All The Ports You Need
You can connect the iLevil AP to other navigation devices like Garmin GTN-650 or 750 and others alike using RS232 aviation data or NMEA $GPRMB autopilot string
Try It 30 Days, Risk Free
The iLevil AP comes with a risk-free money back guarantee within 30 days after you receive your unit plus a 1 year limited warranty against defects in materials and workmanship
Install It in Less Than a Day
The trim tab can easily be adhered, riveted, or screwed on any surface. If you don't want to drill any holes, you can use industrial strength waterproof adhesives. Watch the videos below to learn more
Endless Panel Possibilities
You can modernize your panel with up to 5 smart phones & tablets connected simultaneously
Make use of the available side-by-side option on compatible devices
Frequently Asked Questions
Is it easy to override?

Yes, you can easily override the iLevil AP and the trim tabs with your joystick since there aren't mechanical links with your flight controls. Control links and cables are always free to move. You don't need to use additional friction since there are no conventional servos installed. No external Autotrim is necessary
How do you disconnect it?

Since the system works with trim tabs, auto-trim is built into the iLevil AP. No additional installation is required. The airplane will always be in trim following autopilot disconnection
What's the battery life?

The unit runs as long as it's plugged into the aircraft. It also has a backup battery that lasts 3.5 hours and charges via USB
What's the weight and dimension?

The iLevil AP sensor box weighs 11oz (311g) with dimensions of 3.2" x5" x1.1" (8x12x3 cm). Each individual Trim kit (including servo) weighs 5.3oz (150g). The dimensions of 1 trim tab is 12 "long, the moving part is 2" wide, and the servo placement is 4 "wide. The thickness of the carbon fiber blade is 0.04"
Is it easy to install?

Yes, the iLevil AP facilitates installation with remote GPS and ADS-B antennas, and power inputs for 12V to 28V systems. Compatible with a wide range of apps, tablets, and mobile devices, the AP is the ideal all-in-one solution for a wide variety of aircraft where weight, space, and cost are important. Trim tabs and servos can be bolted or riveted to the aileron and elevator, but the best option is to use industrial-strength waterproof adhesives, no holes need to be drilled. CONTROLLED SURFACES SHOULD BE RE-BALANCED TO AVOID FLUTTER. The Trim-tab kit includes a wiring harness that connects to the iLevil AP and provides power to the servos. For a more in-depth explanation watch the video below from our trim tab partner, Aircraft Automation
Can I follow a flight plan navigation?

Yes, you can follow a flight plan with the iFly GPS app or any navigation device that outputs NMEA data (other apps will be coming soon for this specific flight plan feature)
Can I use it in IFR conditions?

No, the iLevil AP is not to be used in IFR conditions
Can I connect it to other devices?

Yes, you can connect the iLevil AP to other navigation devices like Garmin GTN-650 or 750 and others alike using RS 232 aviation data or NMEA $GPRMB autopilot string
What happens when it is off?

When the autopilot is off, the trim tabs are still active. The system will correct for excessive or unwanted pilot inputs beyond a roll or pitch limit
How many patterns can it fly?

It will automatically keep the aircraft flying in a holding pattern (the hold entries are automatically calculated). The autopilot will fly an indefinite number of patterns until canceled
Where do you ship?

We ship to North America & Europe. If you're outside of these territories, click here to visit our distributor page
How long does it take to arrive?

Due to the global shortage off microprocessors, we must now extend our lead times to 4-6 weeks. We strongly encourage customers to continue to place orders as we will be fulfilling them on a first come first serve basis as microprocessors become available, we apologize for any inconvenience this may cause. We appreciate your patience in the unprecedented event
What about returns & warranty?

We're certain that you'll love our products! or we're happy to offer a 100% money-back guarantee within 30 days after you receive your unit. Your unit is also warranted against defects in materials and workmanship for a period of one (1) year from the date of original retail purchase. Click hereto register your warranty
Is it compatible with iOS & Android?

Our products are fully compatible with iOS devices. The android compatibility is currently on beta and it's limited to some devices and not all features are supported. For updated information in regards to Android compatibility please reach out to aviationsupport@levil.com
What's inside the box?

You will receive 1 Levil Aviation box with the iLevil AP and 1 Aircraft Automation box with the trim tab kit. Click here to watch an unboxing video by Thermalbug for more information
Where can I read the manual?

Click here to access all of our manuals and installation guides
What are other pilots saying?
8,000+ pilots fly with Levil! Here are some you might recognize
Level AP
Order was received fast! Staff was helpful and product looks great!
no hand cramps
installed and tested. very happy still
some bugs to fix but i'm sure it's the pilot … 5 out 5 stars simple to install cost was reasonable for capability's.. tech support was great and carlos was great help…
Installed by a happy pilot
Stunning system. Client received delivery Monday. System installed with the pre-made harness, iPad and 2 x AP tabs. Set up and test flight carried out within 3 day! Minimal down time and client received a iLevil T shirt and pen with his purchase.
My thoughts
Hi, since im still building my airplane, I haven't installed it yet. But i have confidence in it and that I will be satisfied. Once I have it installed and tezt it through its faces, I will do a in depth video review in action and after. Thank you for the comfortable interaction Ricardo, Ananda and Ricardo's dad Carlos.
Att. The puertorican from Sun n Fun.