iLevil 3 AW
Proudly Made in Florida, USA
Regular price
$ 1,595.00 USD
Regular price
Sale price
$ 1,595.00 USD
Unit price
per
Sale
Sold out
Product Comparison Chart
Product Comparison Chart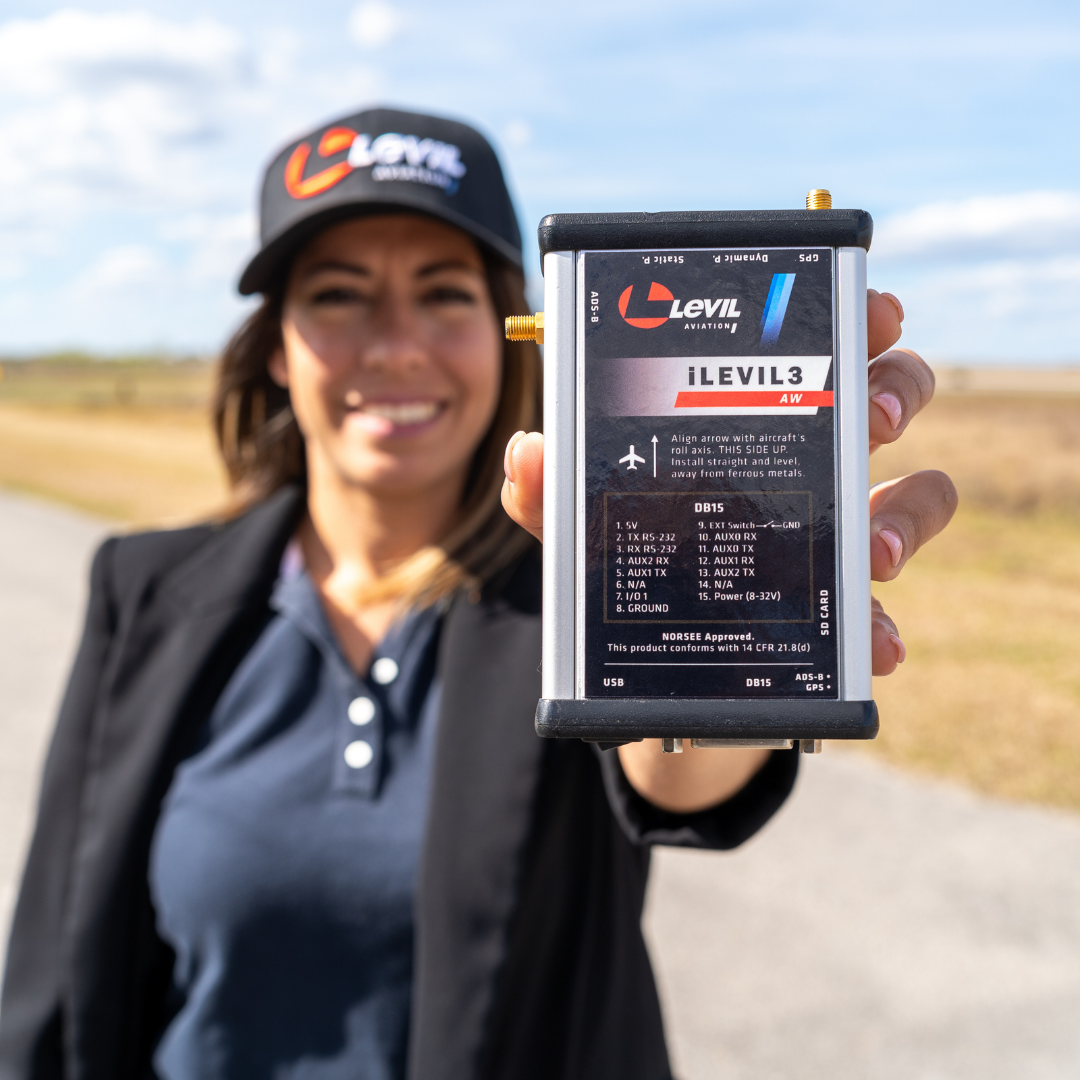 At a Fraction of the Cost
The iLevil 3 AW gives you the ability to broadcast crucial flight information straight to your phone or tablet without compromising weight, space, cost, and reliability
A Complete Six-Pack Solution
Get engine information, indicated airspeed, WAAS GPS, AHRS, ADS-B in, and data recording
GRT Engine Analyzer

Connect a GRT EIS 4000, 6000, or 9000 via the iLevil AP RS232 serial port and display your engine data

Airspeed

Display your airspeed indicator and adjusted it to match your V speeds

Weather

Transmit your weather information data wirelessly to your favorite navigation app

Traffic

Display the traffic around you and where they are heading without having a cluttered background

EFIS

Display your EFIS including altitude and heading bug setting, and Configurable V speeds

Altimeter

Just like the old school, you can easily display your altitude above sea level

Vertical Speed Indicator

Easily display your rate of climb and descent

Data Recording

Record your flight data and review it on CloudAhoy, Google Earth, Xplane, Flight Simulator, and Microsoft Excel

FAA NORSEE Approved
The iLevil 3 AW can be used as a backup system on IFR and VFR conditions on Certified Aircraft and as a primary VFR on experimental and light-sport
All The Ports You Need
You can connect the iLevil 3 AW to other navigation devices like Garmin GTN-650 or 750 and others alike using RS232 aviation data or NMEA $GPRMB autopilot string
Endless Panel Possibilities
You can modernize your panel with up to 5 smart phones & tablets connected simultaneously
Make use of the available side-by-side option on compatible devices
Try It 30 Days, Risk Free
The iLevil 3 AW comes with a risk-free money back guarantee within 30 days after you receive your unit plus a 1 year limited warranty against defects in materials and workmanship
Fast and Easy Installation
The iLevil 3 AW facilitates the installation with remote GPS and ADS-B antennas, and power inputs for 12V to 28V systems. You can watch the iLevil 3 AW About2Stall video review below to learn more
Frequently Asked Questions
How much speed can it handle?

The minimum speed for the iLevil 3 AW is 32 knots and the maximum 320 knots
Is it compatible with other apps?

Yes, the iLevil 3 AW is compatible with our Levil Aviation App (free of subscription), iFly GPS, Aerovie, iEfis, EasyVFR, Fltplan, FlyWise Efis, iFlyPlanner, Naviator, Sky-Map, Xavion, ForeFlight, Avare, WingX Pro, Skydemon, Air Navigation Pro, and FlyQ
Can I mount it on a certified aircraft?

Yes, the iLevil 3 AW is NORSEE Approved. NORSEE is a production approval that allows us to legally sell units for installation on certified aircraft. Installation approval is given by a mechanic under 14 CFR 1.1 / 14 CFR 43 Appendix A definition of a Minor Alteration. If the mechanic deems the installation of the NORSEE device as minor, then the device can be installed with a simple logbook entry. If the mechanic feels that the installation is considered major, then a field approval will be needed for installation
What's the battery life?

The unit runs as long as it's plugged into the aircraft. It also has a backup battery that lasts 3.5 hours and charges via USB
What's its weight and dimension?

It weights 11oz (311g) with dimensions of 3.2" x5" x1.1" (8x12x3 cm)
Can I connect it to more than 1 device?

Yes, the iLevil 3 AW can be connected to as many as 7 devices simultaneously, providing redundancy and almost limitless panel display options
What's inside the box?

Inside the box you'll find the iLevil 3 AW device, USB to Mini USB cable, GPS antenna, ADS-B antenna, DB15 male connector, user manual, and SD card. You can click here to watch an unboxing video
Can I store my flight data?

All flights are stored inside an SD card which you can access anytime to replay, review, analyze, and share. Recording features are also useful for flight schools
Where do you ship?

We ship to North America & Europe. If you're outside of these territories, click here to visit our distributor page
How long does it take to arrive?

Due to the global shortage off microprocessors, we must now extend our lead times to 4-6 weeks. We strongly encourage customers to continue to place orders as we will be fulfilling them on a first come first serve basis as microprocessors become available, we apologize for any inconvenience this may cause. We appreciate your patience in the unprecedented event
What about returns & warranty?

We're certain that you'll love our products! or we're happy to offer a 100% money-back guarantee within 30 days after you receive your unit. Your unit is also warranted against defects in materials and workmanship for a period of one (1) year from the date of original retail purchase. Click hereto register your warranty
Is it compatible with iOS & Android?

Our products are fully compatible with iOS devices. The android compatibility is currently on beta and it's limited to some devices and not all features are supported. For updated information in regards to Android compatibility please reach out to aviationsupport@levil.com
What's inside the box?

Wireless Broadcasting Outer Module unit, USB to mini USB cable, mounting brackets, bracket screws, protector case with magnetic switch, Remove Before Flight flag, NORSEE papers, and Micro SD card. You can watch this unboxing video for more information
Where can I read the manual?

Click here to access all of our manuals and installation guides
What are other pilots saying?
8,000+ pilots fly with Levil! Here are some you might recognize
Levil
Have bought the Ilevil for my Sonex but have not been home to put it in a plan on buying the torpedo for my Bonanza A-35 as well
GRT EIS Option
Because we built our experimental to meet IFR requirements and have ADSB-Out, we found the option iLevil provides to hard wire our ELT and Transponder to the iLevil's integral GPS ideal. We also hard wired our GRT EIS so essential instruments and fuel levels could also be read on the iPads, instead of having to look at the GRT display as well.
iLevil 3 AW Sampling Rate
The iLevel went for a data logging flight in 100deg heat. The unit held up better than we did!!
Lots of research just what I was looking for.
Simple way to add glass panel to your bird.