Astro+
Proudly Made in Florida, USA
Regular price
$ 795.00 USD
Regular price
$ 0.00 USD
Sale price
$ 795.00 USD
Unit price
per
Sale
Sold out
Product Comparison Chart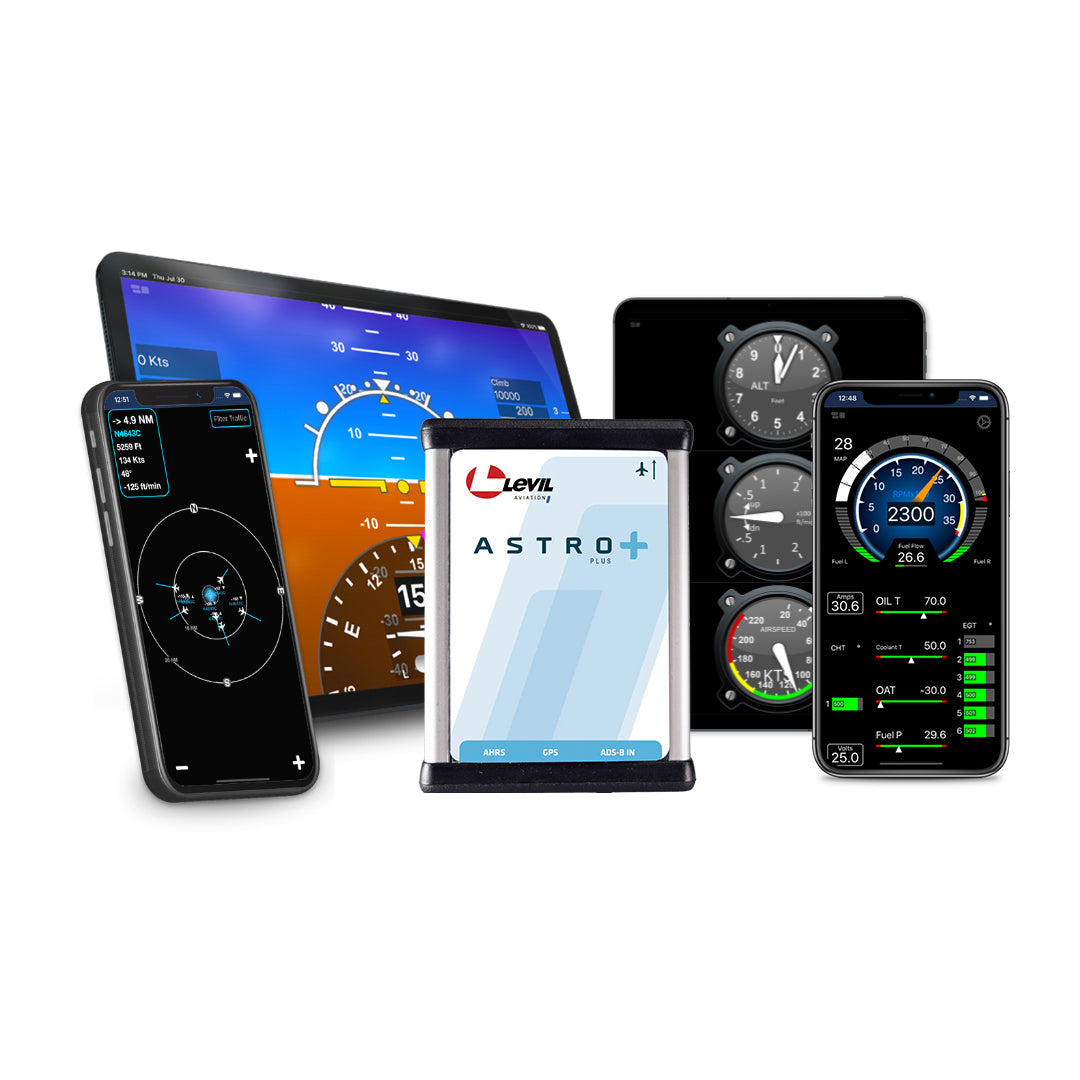 Product Comparison Chart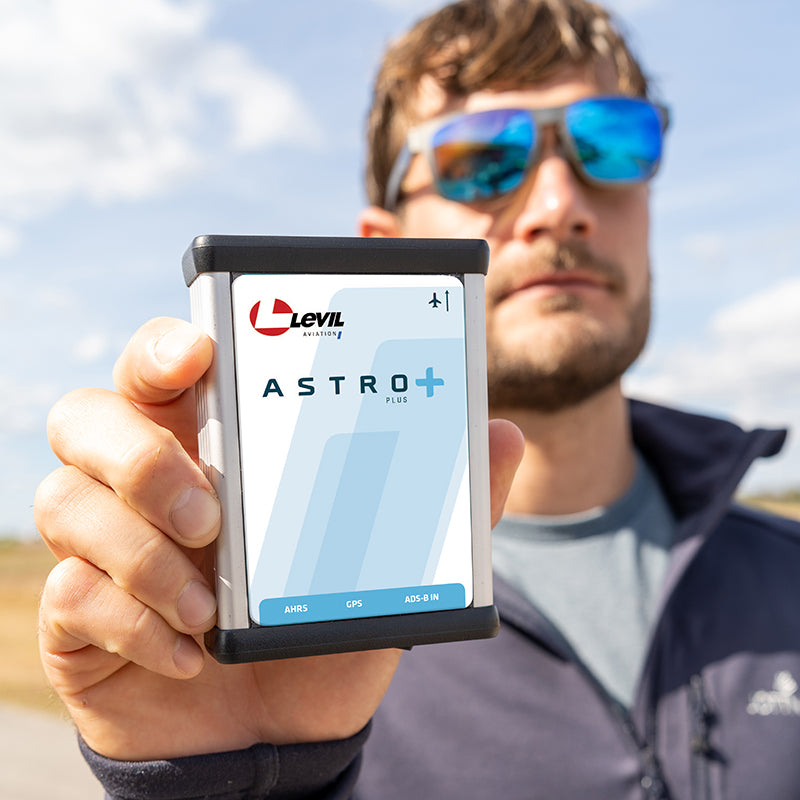 Portable ADS-B Receiver
The Astro+ combines a state-of-the-art aviation-grade AHRS technology, dual-band ADS-B Receiver, and an internal WAAS GPS for navigation inside one portable device
Watch the Astro+ in Action
Increase Your In-flight Situational Awareness
The Astro+ is capable of driving synthetic vision displays and provides the navigation information you need to turn your phone or tablet into a real glass panel
Remote Antennas (Optional)

Cluttered cockpits are a thing of the past... Mount your Astro+ out of sight, supply power, and navigate. You may now install the Astro+ anywhere to avoid excess heat, messy cables, and windshield obstruction

Aux

You can transfer and receive data through the RS232 AUX port, such as, sending GPS to your ELT or navigating with your autopilot

Data Recording

Record your flight data and review it on CloudAhoy, Google Earth, Xplane, Flight Simulator, and Microsoft Excel

Pressure Altitude

Just like the old school, you can easily display your altitude above sea level

GRT Engine Analyzer

Connect a GRT EIS 4000, 6000, or 9000 via the Astro+ AUX serial port and display your engine data

EFIS

Display your EFIS including altitude, heading bug setting, and ground speed

Weather

Transmit your weather information data wirelessly to your favorite navigation app

Traffic

Display the traffic around you and where they are heading without having a cluttered background

Vertical Speed Indicator | GPS Data

Easily display your rate of climb and descent

Status Check

Check your instrument performance and connections, such as, battery levels, GPS reception, and ADS-B in receptions
Try It 30 Days, Risk Free
The Astro+ comes with a risk-free money back guarantee within 30 days after you receive your unit plus a 1 year limited warranty against defects in materials and workmanship
Reliable GPS Technology
Integrated WAAS GPS with a built-in antenna that allows precise navigation using any of your favorite apps. The Astro+ GPS signal also eliminates GPS dropouts resulting from using other devices
Industry Standard AHRS
Each Astro+ is meticulously calibrated for optimal performance even during aerobatics. The AHRS data refreshes at 14 frames per second, the max rate of turn is 500 deg/sec, and the attitude is completely independent of GPS
Endless Panel Possibilities
You can modernize your panel with up to 5 smart phones & tablets connected simultaneously
Make use of the available side-by-side option on compatible devices
Frequently Asked Questions
Can I use an Auxiliary Power Outlets (Cigarette chargers) to power the Astro+?

Our units require 5V input into a USB charger. Auxiliary Power Outlets (Cigarette chargers) usually run on 12V and may cause blown fuses and damage to circuit boards. Please ensure your adapter outputs 5V and has no power spikes. We offer a DC/DC Power Converter as an alternative solution.
Is it compatible with other apps?

Yes, the Astro+ is compatible with our Levil Aviation App (free of subscription), iFly GPS, Aerovie, iEfis, EasyVFR, Fltplan, FlyWise Efis, iFlyPlanner, Naviator, Sky-Map, Xavion, ForeFlight, Avare, WingX Pro, Skydemon, Air Navigation Pro, and FlyQ
Can I get weather information?

The Astro+ has real-time weather and traffic with an optimal high-quality ADS-B receiver. It also maximizes reception while maintaining low power consumption. There is no need for remote antennas. It captures the weather and traffic information even where other devices won't reach it. Satellite weather is not available
Can I mount it on a certified aircraft?

Yes, the Astro+ is a backup portable device; therefore, you can use it on certified aircraft. You may only use our devices as a backup system on IFR and VFR conditions on Certified Aircraft and as a primary VFR on experimental and light-sport
What's the battery life?

The Astro+ has a battery that lasts 3.5 hours and charges via USB-C (the unit also works while charging)
What's its weight and dimension?

It weights 10oz (283g) with dimensions of 3.2" x4.2" x1.1" (8x11x3 cm)
Can I connect it to more than 1 device?

Yes, the Astro+ can be connected to as many as 5 devices simultaneously, providing redundancy and almost limitless panel display options
What's inside the box?

The Astro+ device, USB to USB-C cable, ADS-B In Antenna, info card, protective bag, and silicone stoppers. Also a remote GPS Antenna if selected. You can click here to watch an unboxing video.
Where do you ship?

We ship to North America & Europe. If you're outside of these territories, click here to visit our distributor page
How long does it take to arrive?

Due to the global shortage off microprocessors, we must now extend our lead times to 4-6 weeks. We strongly encourage customers to continue to place orders as we will be fulfilling them on a first come first serve basis as microprocessors become available, we apologize for any inconvenience this may cause. We appreciate your patience in the unprecedented event
What about returns & warranty?

We're certain that you'll love our products! or we're happy to offer a 100% money-back guarantee within 30 days after you receive your unit. Your unit is also warranted against defects in materials and workmanship for a period of one (1) year from the date of original retail purchase. Click hereto register your warranty
Is it compatible with iOS & Android?

Our products are fully compatible with iOS devices. The android compatibility is currently on beta and it's limited to some devices and not all features are supported. For updated information in regards to Android compatibility please reach out to aviationsupport@levil.com
Where can I read the manual?

Click here to access all of our manuals and installation guides