BOM
Proudly Made in Florida, USA
Regular price
$ 2,285.00 USD
Regular price
Sale price
$ 2,285.00 USD
Unit price
per
Sale
Sold out
Product Comparison Chart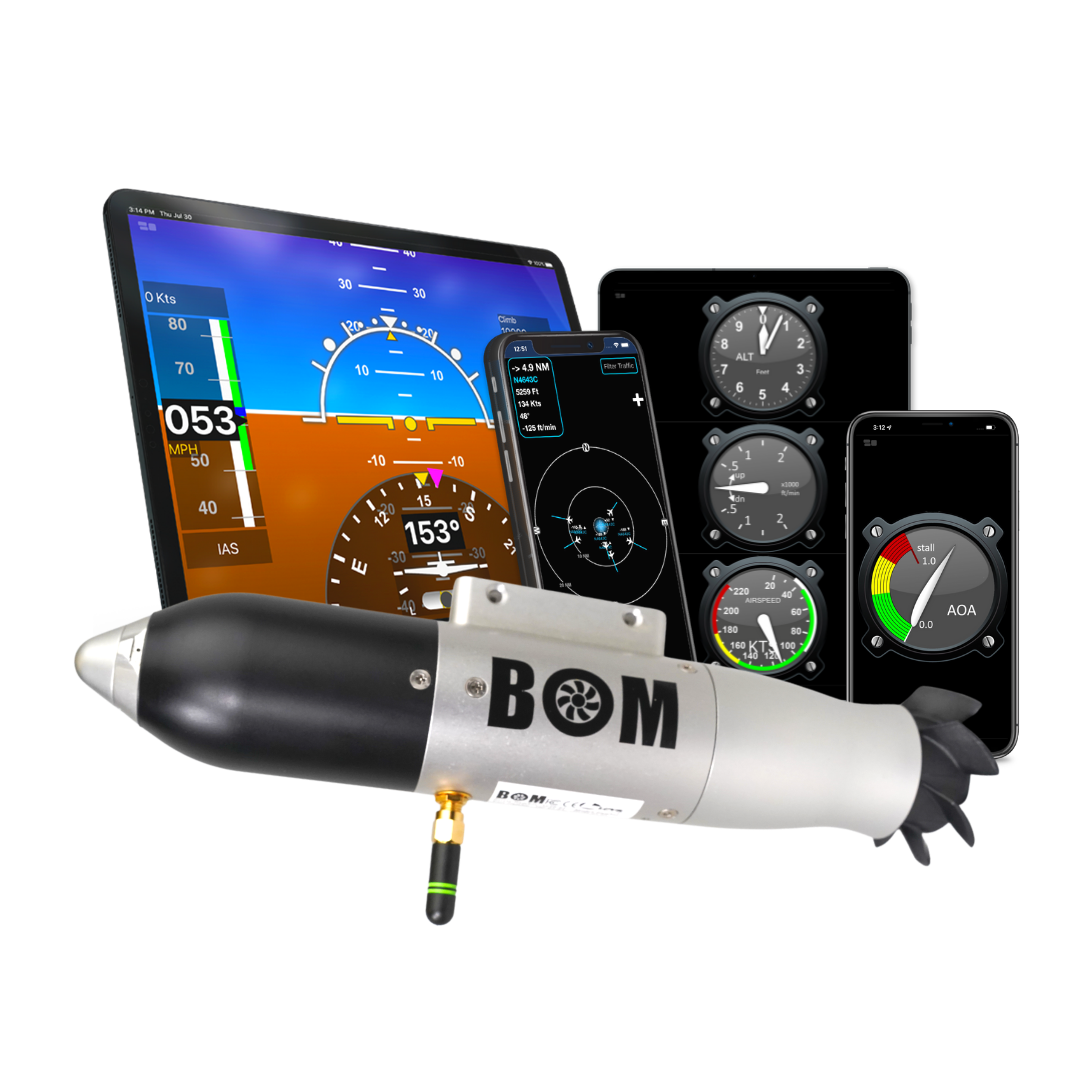 Product Comparison Chart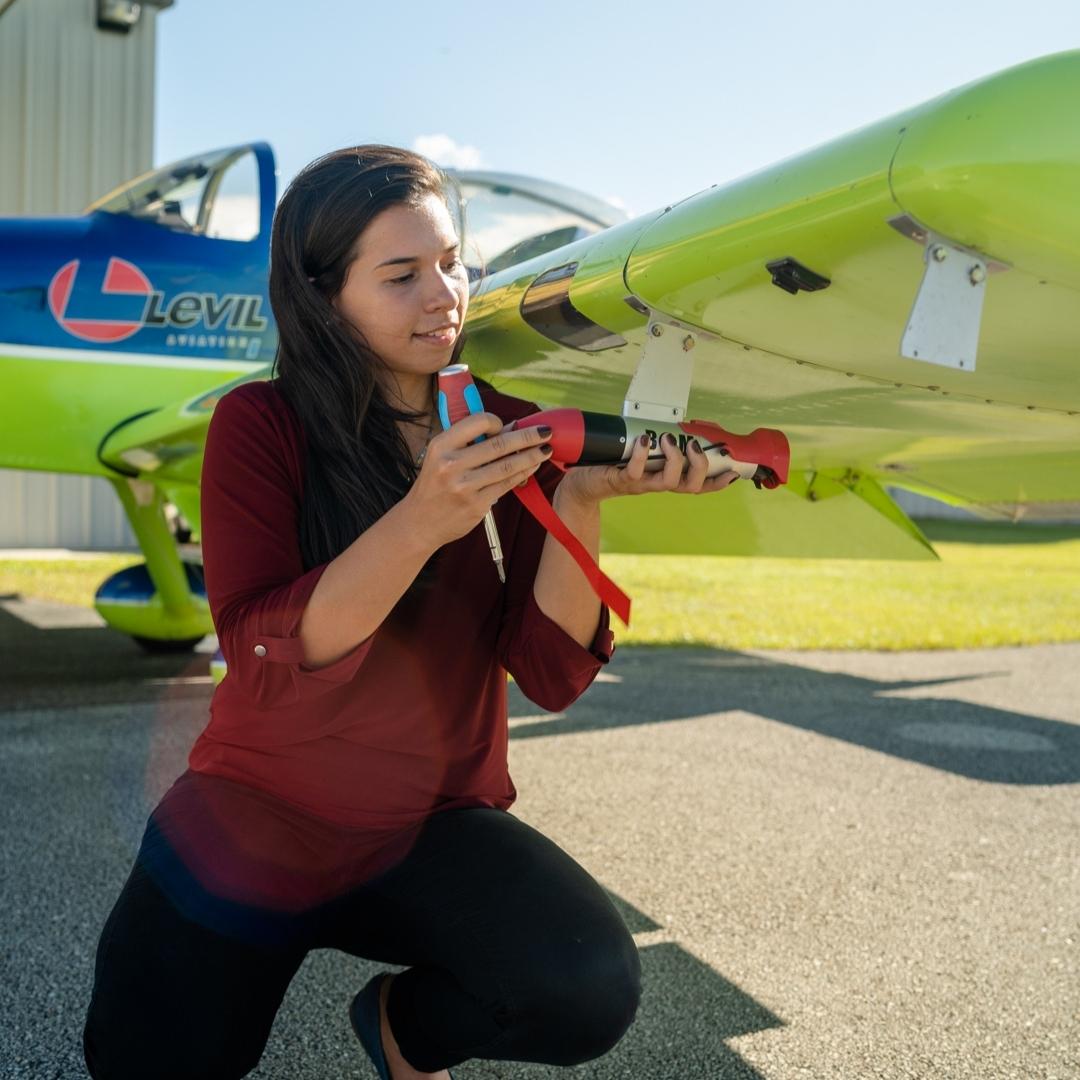 A True Backup Solution
The BOM will have your back during an instrument malfunction. Just mount it underneath the wing of your aircraft and it'll transmit crucial flight data to your smartphone or tablet without using a single wire
All the Avionics You Need
Wirelessly transmit your angle of attack, indicated airspeed, WAAS GPS, AHRS, ADS-B in, and post-flight data straight from your BOM to up to 5 iPhones and iPads at the same time providing redundancy and almost limitless panel display options
Angle of Attack

Get visual and audio aid when the critical angle of attack is about to be exceeded

Airspeed

Display your airspeed indicator and adjusted it to match your V speeds

Weather

Transmit your weather information data wirelessly to your favorite navigation app

Traffic

Display the traffic around you and where they are heading without having a cluttered background

EFIS

Display your EFIS including altitude and heading bug setting, integrated AoA indicator, and Configurable V speeds

Altimeter

Just like the old school, you can easily display your altitude above sea level

Vertical Speed Indicator

Easily display your rate of climb and descent whenever you need it

Data Recording

Record your flight data and review it on CloudAhoy, Google Earth, Xplane, Flight Simulator, and Microsoft Excel

FAA NORSEE Approved
The BOM can be used as a backup system on IFR and VFR conditions on Certified Aircraft and as a primary VFR on experimental and light-sport
Endless Panel Possibilities
You can modernize your panel with up to 5 smart phones & tablets connected simultaneously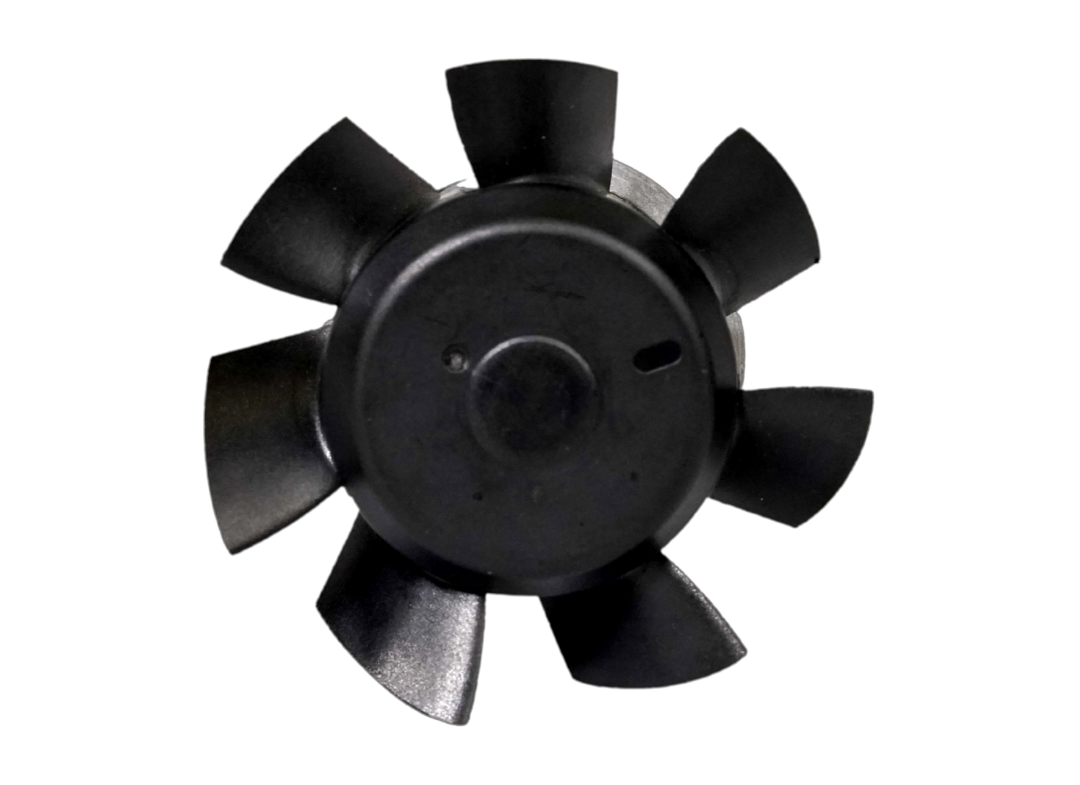 Powered by Wind
The BOM is self-powered and self-charging, independent from your main controls, and automatically powers on/off
Make use of the available side-by-side option on compatible devices
Try It 30 Days, Risk Free
The BOM comes with a risk-free money back guarantee within 30 days after you receive your unit plus a 1 year limited warranty against defects in materials and workmanship
Fast and Easy Installation
The installation was made easy by eliminating wires altogether and making the BOM a completely wireless interface system. For a more in-depth explanation watch the video below
Frequently Asked Questions
Does it have ADS-B out?

The BOM doesn't apply for ADS-B out since it is self-contained and not wired to the aircraft
What's the drag coefficient?

This aerodynamic design only produces 0.175 lbs of force at 100 knots and 0.7 Lbs of force at 200 knots. The dimensions are 10" x 3.7" x 1.8" with a total weight of 1 lb. The BOM is made out of delrin and anodized aluminum and contains a Li-Ion battery inside
How much speed can it handle?

The minimum speed for the BOM is 32 knots and the maximum 210 knots. The turbine will start charging the unit at 60 knots
Will it work during an engine failure?

Yes, the BOM won't turn off if the engine quits. There are only 3 possible ways to turn off your unit:

1. There's a magnet inside the red protective cover that will turn off the unit as soon as you put it on.
2. You can power off your unit using your smartphone or tablet.
3. The unit will turn off automatically after 10 minutes if it doesn't sense any AHRS or GPS movement. 

You will always get a warning on your smartphone or tablet if the BOM isn't sensing any data. You can click "give me more time" on the app to keep the unit on
Does it have engine information?

No, the BOM is self-contained and not wired to the aircraft. You would need any of our iLevil series connected to a GRT in order to display engine information on our free app
Can it be used on low & high-wing?

Yes, you can easily install the BOM on a low and high-wing aircraft with our bracket or inspection plate. Our strut mount only works with high-wing aircraft
What is the calibration process?

Once in the air, calibrate the AOA, Airspeed, and attitude on our Levil Aviation App. For a more in-depth click here to watch the video
Can it handle ice?

The BOM has a heated pitot-static system which is suitable for any condition (a nice-smooth day to light icy weather)
Can I store my flight data?

All flights are stored inside an SD card which you can access anytime to replay, review, analyze, and share. Recording features are also useful for flight schools
Where do you ship?

We ship to North America & Europe. If you're outside of these territories, click here to visit our distributor page
How long does it take to arrive?

Due to the global shortage off microprocessors, we must now extend our lead times to 4-6 weeks. We strongly encourage customers to continue to place orders as we will be fulfilling them on a first come first serve basis as microprocessors become available, we apologize for any inconvenience this may cause. We appreciate your patience in the unprecedented event
What about returns & warranty?

We're certain that you'll love our products! or we're happy to offer a 100% money-back guarantee within 30 days after you receive your unit. Your unit is also warranted against defects in materials and workmanship for a period of one (1) year from the date of original retail purchase. Click hereto register your warranty
Is it compatible with iOS & Android?

Our products are fully compatible with iOS devices. The android compatibility is currently on beta and it's limited to some devices and not all features are supported. For updated information in regards to Android compatibility please reach out to aviationsupport@levil.com
What's inside the box?

Wireless Broadcasting Outer Module unit, USB to mini USB cable, mounting brackets, bracket screws, protector case with magnetic switch, Remove Before Flight flag, NORSEE papers, and Micro SD card. You can watch this unboxing video for more information
Where can I read the manual?

Click here to access all of our manuals and installation guides
What are other pilots saying?
8,000+ pilots fly with Levil! Here are some you might recognize
Very happy but a bit disappointed of ONE thing!
Everything works wonderfully and I'm really happy to have received my BOM. But, there is something that makes me a little disappointed, it is in terms of speed.
Is it normal that below 30 miles per hour, nothing works? And that, above 80-85 mph, the IAS is no longer accurate?
I am waiting for your answers, I would SO like the speeds to work correctly because I would like to rely on the AOA for short landings.
My plane (Pegazair P-100) stalls at 20-22 mph.
I can't wait to read your response!
THANKS
The pressure sensor within the unit will not read below 32kts, but if you mean everything quits working below that speed, it might be because the turbine is not powering the unit at this speed, and the battery might be dead. If the battery is charged, you should still get functionality for approx. 2 hours of battery when flying below the needed speed to power the unit during flight.
If you are experiencing issues with the speed not displaying accurately, there is an easy correction you can do.
We recommend doing a restore default first. This is because you'll need to redo the AOA calibration since it will inaccurately adjust your airspeed if this needs to be done correctly. If you still notice it is off after doing the AOA calibration, you'll want to make an adjustment. This can be done on the device configure page under the BOM tab, under optional adjustments- pitot adjustment. Due to the different installations for this unit, the airflow can affect the readings, and a minor adjustment needs to be made.
Please don't hesitate to call our tech support line if you would like to troubleshoot further at +1 407-542-3971.
Safety of flight in mountains environment
Easy to install and to getting started. It works perfect (except ADS-B as if I haven't seen marks of other airplanes yet). It provides higher level of safety of flight to my personal ultralight world in the Pyrenees.
AMAZING PRODUCTS
THANK YOU, THE BOM IS GREAT LOVE THE AOA. ADDED SAFETY MARGIN, WAITING FOR THE WIRELESS AUTO PILOT.
Levil BOM
Purchased to install on my Aeronca 7AC. Haven't had a chance to install on it yet so I installed on my ultralight and it works great. Can't wait to get it installed in the Champ and use with my Ifly efb app.
The people at Levil Aviation have been great to work with!
Small
It is smaller than I expected, has a lot loaded in a small package.